UPDATE: Here is an updated list of Porsche Gift Ideas for 2016
For the past few years I've been compiling gift ideas for the Porsche owners and enthusiasts. With each new list, I find new products of interest and realize there is just so much good stuff available it's tough to cover it all. This year is no different. In order to make things easier I decided to break things into categories for you, including: Porsche Books, Porsche Magazines, Porsche Club Memberships, Porsche Maintenance and Repair Items, Porsche Gifts Just for Her, Porsche Electronics and Toys, Porsche Watches and Jewelery, Porsche Artwork and lastly, Porsche Stocking Stuffers.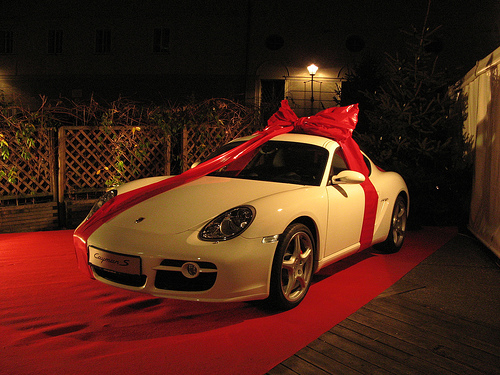 In most instance I've provided you with a link so the gift can be easily found and purchased with a click of a button. For those items not available for sale online I provided you with the best contact details I had available. Lastly, over the past two years we've had the opportunity to review a lot of these items first hand. In those instance I provided you with a link to the review for further information.
Gifts for the Porsche Owner
Porsche Motorsports
The more I become involved with Porsche the more I like all aspects of the brand. Over the last year I really started to dive deep into the land of Porsche Motorsport. I've had the great good fortune to meet and drive with a number of the Porsche factory drivers including Patrick Long of the Flying Lizard Motorsport team. This year, PorschePurist is working hand in hand with the Flying Lizard team to offer their gear directly to the readers of PorschePurist. Not only is this a great way to support your favorite Porsche team, the Flying Lizard Gear makes a great gift too.
Books about Porsche
The list below is just a small sampling of books about Porsche that we have reviewed here on FlatSixes.com. Posted in our Amazon Store is a much more comprehensive listing of Porsche related Books. The first link for each item will bring you directly to Amazon.com while the second link will bring you to FlatSixes.com's review of the book.
Porsche Magazines
There's nothing I like better than walking down to the mailbox and coming back with a new issue of my favorite Porsche Magazines. While there are currently five (5) Porsche magazines available to the general public (six if you include the PCA's members only Panorama) my two favorites are:
Total911 isn't inexpensive (as it's shipping from the UK), but in my opinion it's still worth the premium. Each month is packed with over sized pictures and articles on your favorite topics.
Porsche Club Memberships
If you're a Porsche owner and you don't below to your local owner's club, you don't really know what you are missing. Here in the US, the Porsche Club of America (PCA) is king. With more than 100,000 members nationwide, there is bound to be a local and active group in your community. I personally participate in three different regions and enjoy interacting with other Porsche owners immensely. If you're not yet a member of the PCA or similar type club, you should really think about joining up. If you're the husband, wife, boyfriend, girlfriend, etc of a Porsche owner and they are not yet a PCA member, this is a fantastic gift (the cost of membership includes 2 people). Not only will they meet other people with similar obsessions interests, a membership to the PCA includes a monthly subscription to Panorama Magazine.
Porsche Maintenance and Repair Items
Admitedly, I don't do a lot any of my own service work on my Porches. However, over the years, I have come to enjoy and appreciate a few small items that make Porsche ownership a little easier, especially if your Porsche doesn't happen to be your daily driver.
Porsche Gifts for Her
I wrote a post last year titled "Father's Day Gift Ideas for the Porsche Lover". Shortly after publishing it, I received a few emails from some of our female readers wanting to know where my list of Mother's Day gift ideas was. I responded that any of the items on that list would work for a woman, but I got the hint. So, here are a few gift ideas with the female Porsche owner/lover in mind.
Chroma Type 301 Porsche Designed Knives Before I start getting hate mail, I don't think it's only women that do the cooking, but outside of me and a few others, I don't know a lot of men that get excited at the idea of new kitchen knives. Personally, I love these Chroma knives and use them pretty much exclusively. A word of warning, they are not inexpensive! However, properly cared for they should last you a lifetime. If you're interested, Mrs. 993C4S wrote a review of the Chroma Porsche Designed knives last year after using them for a little while.
Heritage Mini Bag / Purse
Porsche Sport's Driving School: Women Only. Described as being designed for the woman who enjoys driving and wants to experience the essence of Porsche automobiles as well as enhance her current driving skills. The Women's Only Performance course will not only allow you to pursue your passion for excitement; it will also cater to your need to escape.
Porsche Electronics, Toys and Models
Porsche Watches, Jewelery and Other Accessories
Porsche Design Watches.
It seems like a lot of us who drive and collect Porsches collect other items as well. I'm no different. After Porsche, my next biggest obssesion is most definitely watches. Porsche Design Watches lets me combine my two loves. They are not inexpensive, but they are almost as nice to look at as the cars.
Porsche Artwork
Given all the time I'm spend in my garage (that's where my computer is too) I figured I might as well make it a nicer place to hang out in. One of the easiest ways to do this is by hanging up some posters and other original art.
If you're looking for Porsche related artwork (and I'm sure you are) then you might want to take a look at theses affordable and extremely well executed limited edition prints by Stéphane Dufour. If you live in the US, Stéphane's work can be purchased through his distributor in California or you can contact him directly if you are interested in the original art that the limited editions are derived from. My favorite piece, without a doubt, is the homage to the 1970 Porsche 917 Martini n°3 and its psychedelic decoration created in wood and aluminum. That's a picture of it up above.
Another notable automotive artist is Paul Chenard. For those of you who are long time subscribers you may remember Paul as the artist who created the current FlatSixes.com logo and the creator of the Porsche artwork my wife purchased for me as a Christmas gift last year!
Porsche Related Stocking Stuffers
Shopping for Christmas is already expensive enough. Add Porsche anything to the mix and the price just went up. The following deas make great stocking stuffers and won't break the bank.
Happy Shopping
While the list above is long, it is hardly comprehensive. If there are other items you can suggest that I add to the list for next year, I would greatly appreciate your feedback. Where possible, I did try to point you in the right direction and provide a link for each item to make your shopping easier. I have no plans to battle the crowds come "Black Friday". I'm all about shopping online and "Cyber Monday". 🙂
Related Posts
10 Porsche Related Christmas Gift Ideas Under $100
8 Of Our Most Popular Porsche Related Gift Items
7 Porsche Gift Ideas for Father's Day
10 Gift Ideas for the Porsche Lover on Your Holiday List
Porsche Gifts Received for Christmas