The Holberts, Bob and Al, father and son. "A bright thread running through the fabric of Porsche history in America" is how they were appropriately described in Betty Jo Turner's interview with the two of them in the 30th Anniversary edition of Panorama.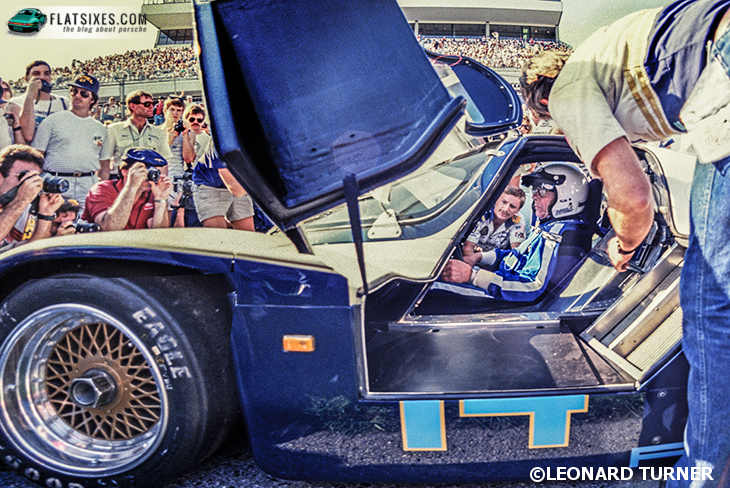 The year of the image is 1989, the location Daytona. The pilot of the famous #14 Porsche 962 on this day is not a young man, and the reason he is about to take the car onto the track is not a happy one. Bob Holbert, associated with Porsches for more than 30-years, had won four SCCA national championships, and had been Driver of the Year on four occasions. He had finished fifth at Le Mans in "Grossmutter," the most famous Spyder of all time; there had been class wins at Daytona and Sebring, and an overall at Watkins Glen, all driving Porsche. Huschke von Hanstein had given him the Most Valuable Driver award. He had driven with the likes of Penske, Gurney, and Masten Gregory, and finished his career driving on Caroll Shelby's Cobra team where he won the first United States Road Racing Championship.
I got hooked on Porsches after I saw Bob Holbert drive a Spyder at VIR in the early 1960s, but people of my generation understandably have even more memories of his son. Al Holbert had an immense presence in the Porsche world. Having won ten Can-Am races, he went on to multiple IMSA Camel GT victories, and put Porsche into the winner's circle three times at Le Mans. He became director of Porsche Motorsport North America in 1985, managing Porsche's competition program in here, and was crucial in convincing Porsche to pursue an Indy car program, which he managed. An accomplished pilot, he died tragically in a plane crash in September 1988 at the age of 41. One can only speculate how the face of Porsche racing in this country would have differed had he lived.
The occasion of this image was a tribute to Al and his family at the 1989 Daytona 24 Hours, planned to include a one-lap honor run in Al's car, and the retirement of his racing number 14 (appropriately the only other that had been retired was Peter Gregg's #59). About to take his son's Lowenbrau 962 out onto the track one last time, Bob sits in the car closely attended by two of son Al's crew members, facing an onslaught of photographers in front of the car. Working to get in close, I had switched to a fisheye lens to encompass the entire bittersweet scent. Shortly thereafter, the race began and 24-hours later Porsche had won their 50th Camel GT victory—but sadly without Al Holbert.