The Museum run by Dr. Ing. h.c. F. Porsche AG, Stuttgart, Germany, has bidden "bon voyage" to its legendary one-of-a-kind Type 64 Berlin-Rome Car. Befitting the 60th anniversary of Porsche in America, the destination of the aluminum body of the Type 64 is the High Museum of Art here – the home of Porsche's U.S. headquarters. This trans-oceanic trip to The High marks the first time the elegantly aerodynamic coupe has ever ventured outside of Germany.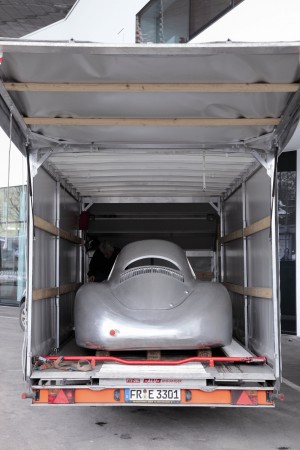 The Type 64 will be a feature of The High's "Allure of the Automobile" exhibition running March 21 to June 20, 2010.
In "The Allure of the Automobile," The High – considered the Southeast's leading fine-art museum – expresses its recognition of the outstanding automotive developments in the period from 1930 to 1960, focusing on the contrasts in the development of American and European automotive design. Type 64, which will be exhibited in its own gallery space, will be presented along with several other icons of the world of automobiles from Bugatti, Duesenberg, Jaguar, Ferrari, Pierce Arrow, Packard, Cadillac and Tucker. The 71-year old Porsche design, viewed as the precursor of all Porsches, is considered a triumph of exceptional design, innovative construction and superb craftsmanship.
Type 64 marks an essential milestone en route to the first Porsche, the Type 356 "No.1" built in 1948, and thus is of special significance in Porsche history. Built in 1938/39 under the guidance of Ferdinand Porsche, this unique car displayed the features that make Porsche cars special – light- weight construction and superior aerodynamics, exceptional performance, efficient yet reliable technology and a uniqueness of design – that remain embedded in the brand's DNA to this day. Originally developed for the Berlin-Rome long-distance race, the Type 64 never participated in a race due to the onset of World War II.
"This incredible design piece is the only prewar Porsche and it has never been seen outside Germany," said Detlev von Platen, President and CEO of Porsche Cars North America. "This may be a 'once-in-a-lifetime' chance to see the Type 64 as it may not venture to this Hemisphere again for quite some time."
Porsche, the sponsor of "The Allure of the Automobile" exhibit at The High Museum of Art, is also displaying another historic car, the 1953 Porsche 550 LeMans coupe, which will be on loan from the private Collier Collection of Porsche in Naples, Fla.
To learn more about the High Museum of Art and the exhibition, please visit www.High.org
Related Porsche Posts
One of a Kind Porsche to be Displayed in Atlanta