As the saying goes, "where there's smoke, there's fire". We got the first whiff of smoke a couple of weeks ago when rumors started floating around about a possible date change for Rennsport Reunion V. As I'm sure you can imagine, when you're planning an event this large, it's next to impossible to make a major change on the "down low". The smoke turned into a fire and that fire started roaring tonight when Porsche officially announced they were changing the date of the event, 3 1/1 months after first announcing it. Originally planned for October 9 – 11, the event is now moved forward two weeks to September 25 – 27. Like many of you, we've already made our reservations and we're now scrambling to change them.
So Why Did Porsche Change The Dates
According to Porsche the date change is "due to an unforeseen scheduling conflict with the World Endurance Championship (WEC) racing series". Specifically, it conflicts with the 6 Hours of Fuji now schedule for the same weekend as the original dates of RRV. Porsche's official statement said the following:
"We felt it would be in the best interest for all parties to take this unusual step and move the date," said Detlev von Platen, President and CEO of Porsche Cars North America. "By moving Rennsport Reunion V ahead two weeks, we ensure that our current 919 Hybrid LMP1 and 911 RSR race teams, and more importantly, our new generation of racing heroes can join our racing legends and be part of the festivities among our many fans."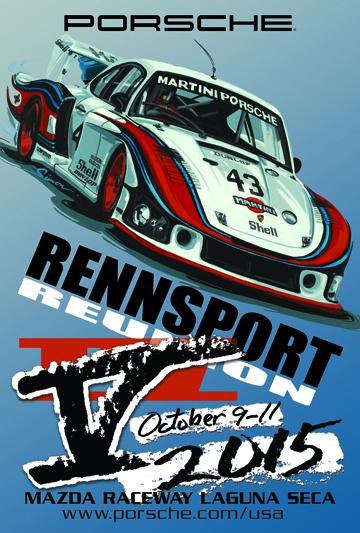 Prior to the announcement tickets were available for sale on the Mazda Raceway web-site. As of right now, the web-site has been updated, but tickets aren't currently available for sale. We assume this will change soon. If you've already purchased your tickets for the original dates, they will be honored. We have a call into Porsche to get answers to ta few others and will update you once we hear back. As updates become available you can get them here on FLATSIXES.com on Porsche's website (www.porsche.com) and Mazda Raceway Laguna Seca's website (www.mazdaraceway.com).
Please be sure to use the social sharing buttons at the top of this post, or below, to make sure other Porsche fans know about this change!
Other Porsche Blog Posts You Will Enjoy
Save The Date For Luftgekühlt II
Here Are All 5 Official Rennsport Reunion Posters
Confirmed: A Porsche 911 Targa Reimagined By Singer Is On The Way!
Rennsport Reunion IV Wrap-up Video
Rennsport Reunion IV Pictures from Thursday
Rennsport Reunion IV Pictures from Friday
Rennsport Reunion IV Pictures from Saturday
Rennsport Reunion IV Pictures from our Facebook Album Part 1
Rennsport Reunion IV Pictures from our Facebook Album Part 2