There's one for sale on eBay and it can be yours for a mere $350,000.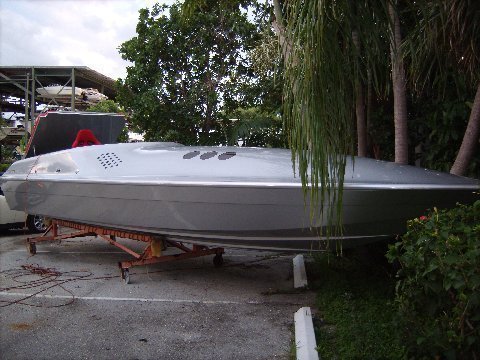 Not sure what we're talking about? Some of you may remember a post back in 2008 about a power boat designed by Porsche and manufactured by Fearless Yachts. Unfortunately, just a few short months after introducing their first Porsche Designed Boat (The Fearless 28) the company, Fearless International, filed for bankruptcy and was never to be heard from again.
What might not be widely known, and quite frankly the details still aren't all that clear, is that besides press releases and company statements to the contrary, the Fearless 28 was not the first boat ever designed by Porsche. Based on our research (and it's not necessarily conclusive or accurate) it appears that Porsche first designed a boat back in 1985 and commissioned Kineo to build the hulls. The result was the Kineo 27', of which only three hulls were completed.
Where things get really foggy is trying to figure out how these boats were powered. Some claim that only one hull and power option was ever approved by Porsche and that's the Kineo 27' with twin Mercruiser MAG 454s (see the link above). Others, like the seller of this eBay listing claim that their boat is the only one with Porsche Marine engines (Porsche 928 v8s that were converted to marine use). If, in fact, the seller of the boat on eBay is to be believed (and based on our research we can't figure it out either way) this particular boat is the first ever to be designed and produced by Porsche and the only speed boat powered by a Porsche marine engine.
While the details aren't clear, and the seller's not talking (which has us wanting to ask even more questions), it appears that this particular boat was designed by Porsche, built by Kineo and powered by Porsche but never released to the public. According to the seller, this boat was Manufactured in 1992 – a full 16 years before Fearless launched their boat at the Miami boat show.
Let's recap. Three of these hulls were produced, but only one of them, this one (hull #1), is powered with the Porsche Marine Engine option (a $75k option in '92). If this really is the case, then we're looking at a one-off, one-of-a-kind prototype, that just might be worth the asking price as the only thing like it in existence. But, buyer beware! Do your homework first, ask a lot of questions and get the documentation!
Porsche Design Boat Details
Carbon Fiber Kevlar Construction
0 Hours and Stored Since New
Porsche Metallic Silver Paint, Dual Matching Silver Hard Shell Fully Adjustable Sport Seats (GT3?) with Red Cushions
"PORSCHE" Designed By FA Porsche on the transom that hydraulically opens to a fold down swim platform with ladder and wash down
Cushioned sunpad-hydraulic engine hatch
Small berth able cabin with gray cushions and headliner
Dual VDO gadge instrumentation
Brand new teak decks complete mechanical and cosmetic updates (not sure what is meant by update?)
Original MSRP was $550K plus $75K for the Porsche Marine Option
Related Porsche Boat Posts
Porsches for Sale
Porsche Design Boat by Fearless Yachts
Metallica Porsche for Sale
Leave it to Beaver's Porsche for sale on eBay
How Much Would You Pay to sit Where Posh Sat?
[Source: Ebay, Rightboat, TeamSpeed, Pelican Parts, YachtForums]