I've spent some time with Porsche's PDK in the past, but never quite in the way that Porsche prepared for us at their PDK push in Birmingham, Alabama. After two days of varying driving conditions, on both road and track, I needed to take everything I thought I knew and felt about PDK and toss it out the window. Here's the thing, if you haven't lived with PDK in your own Porsche, or more importantly driven it on the track, then I suggest you do the same. At least while you're reading this post.
What is PDK?
Put extremely simple, the PDK is two manual gearboxes combined into one unit. At its crux, the PDK has a sophisticated electronically controlled valve body overseeing the operation of two separate multi-plate wet-clutch packs, each with its own set of gears. One clutch activates First, Third, Fifth, Seventh and Reverse, the other Second, Fourth and Sixth. In manual mode, under acceleration, the PDK upshifts sequentially, alternating between odd and even numbered gear sets. During downshifts, however, the PDK can skip gears, even going from Seventh to Second.
The PDK (which comes from the German Porsche-Doppelkupplungsgetriebe), allows the driver to shift up and down using either steering-wheel mounted paddles or the console-mounted lever. Or, if you prefer, the driver can simply leave the PDK in automatic mode and allow it to operate totally on its own.
Porsche's PDK is not New
For those of you that think Porsche's Doppelkupplung insert more unpronounceable German words here (yes, PDK is muck easier on the tongue and ears) is new, guess again. What many of you may not have realized is that not only is the PDK transmission not new, it's been part of the Porsche racing heritage for more than 20 years.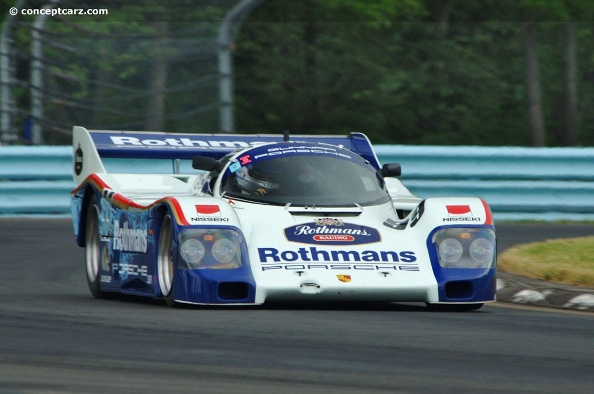 While today's PDK transmission is a far cry from the original, the technology is a direct descendant from the PDK transmission introduced as an option on the factory race prepped Porsche 962 C in 1985. Derek Bell, who won the World Championship in a 962 with PDK in 1986, gives a great interview at automobilemag.com about his experience with the car and the transmission.
What are the Benefits of PDK
Actually, there are many, but the two biggest are:
SPEED. The dual clutch provides barely perceptible shift points with little to no power loss. In fact, gear changes happen in a mere 40 milliseconds. Faster than you can blink your eye by a factor of 8 and at least twice as fast as Jeremy Clarkson can come up with a new pithy comment about Porsche. This translates into more speed and faster lap times, much faster.
FUEL EFFICIENCY. Yes, you read that correctly, Fuel Efficiency. When you mate the PDK system with Porsche's DFI technology you have a sports car capable of 30 + miles per gallon, that can still throw down sub two minute lap times on a challenging and technical track like Barber in Birmingham. The best part about it is you don't have to be Hurley Haywood, Patrick Long or David Donohue to do so. I'm living proof.

PDK on the Track

The reports I've read tell of a 911 Carrera S (equipped with PDK) shaving 8 seconds from the lap time, clocked by the manually equipped model on, "the Ring," not to mention a few tenths of a second off the zero to sixty time.

More importantly, for those of you who use your weekend DE events to strut your stuff, PDK is simple to use and will make you a better driver. By simple I mean idiot and bullet proof (perfect for me). Try as I might, even in some of the hardest corners at Barber, I couldn't fool the PDK tranny; the right amount of power was instantly available no matter how deep into the apex I got before turning in or how far outside the line I was as I accelerated out. The power was simply constant and continuous. By not having to worry about my proper shift points, heal and toe, etc. I put all of my focus on the track and my line. I was rewarded with one of the fastest lap times of the day (but still almost 10 seconds off the time Hurley Haywood put down in the same car)….

PDK on the Road

Even more impressive than the track performance is the how PDK handles on the road, in traffic and cruising down the highway. Almost all shifts are seamless (more on this below) and the occasional down-shift (as the computer blips the throttle) is always nice on the ears.

My test car, an Aqua Blue 2009 Boxster S, received a 5.1 percent gain in power and a 5.6 percent jump in torque over last year's model. Even with the additional ponies and pulling power, Porsche claims the Boxster S capable of a surprisingly thrifty 29 MPG. While I was only able to get 26 MPG out of my car, I did so while employing a fairly heavy foot (I still wanted to enjoy the car). There were others in my test group, in similar cars, whose light footed approach was rewarded with average MPG of well over 30. Let's just say they didn't get to our appointed destination quite as fast as I did.

What's not to like?

Actually, not much. I did find the PDK to lag or lug a little off the start while driving for economy. Just a brief hesitation before the car pulls away. I can only attribute this to the computer doing its best to map my every changing driving habits while at the same time delivering the best possible fuel economy. This lag or lugging was no where to be found once you exerted anything over minimal pressure on the go pedal or switched the transmission into sports mode.

My only complaint, when track driving, is the location of the manual thumb shifters. Like so many other reviewers, the positioning is not necessarily intuitive and at times my big paws put too much pressure on the wheel and made a few manual shifts when I didn't intend to.

Final Thoughts on Porsche's PDK

I've read some reviews where others have complained about a loss of connection when driving PDK. Despite the obvious failings in comparison to PDK, I prefer a manual transmission (out of habit). However, it's indisputable that PDK is easier and faster, each time, every time.

On the track, the PDK is incredibly forgiving. It makes bad drivers better and good drivers great (or damn close to it). On the road, PDK provides ease of use and great fuel economy. All in all it's the perfect solution for the weekend racer who uses the same toy to commute back and forth to the daily grind.

Related Posts
Porsche 962 and PDK Transmission
Driving the 2009 Porsche Boxster S with PDK
Porsche Doppelkupplung (double clutch) or PDK Explained