Two months ago we held our first ever Photo Caption Contest. You responded with over 70 entries and we had a lot of fun reading and reviewing them. As everyone seemed to like it so much we decided we would do it again. Take a look at the picture below (we chose it in honor of "Butzi" Porsche's 75th birthday this week) and then check out our simple rules. If your caption is picked you'll receive a $50 gift certificate courtesy of Griot's Garage.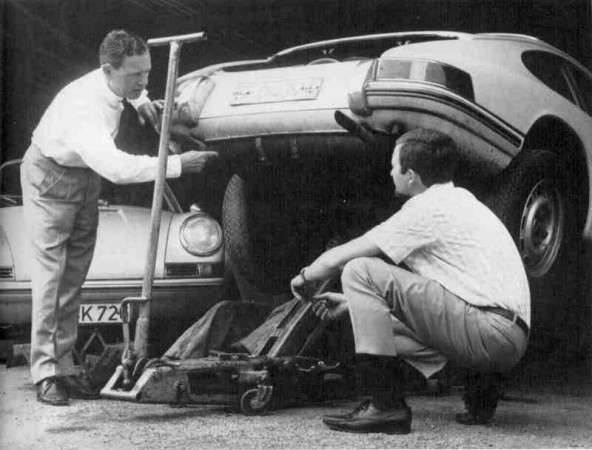 PorchePurist Photo Caption Contest Rules
Look at the picture above. If you want to see a larger version of it, just give it a click.
Using the comment form at the end of this post let us know your idea for a caption (if you're viewing this post via email simply click on the title or the comment link at the bottom to visit the site).
Submit your comment sometime between now and the 11:59 pm EST on 12-20-2010.
Please limit your comments to three (3) per person (just to keep things fair).
We (that's John and I) will pick our favorite from among the entries and notify the winner via email and by adding a comment below.
Win a $50 Gift Certificate from Griot's Garage
Our newest sponsor, Griot's Garage, once again generously offered a $50 buck gift certificate to the winner of our contest. The contest ends on December 20th. If we pick you as the winner, and you respond to our notice immediately, we'll do our best to have Griot's get this gift certificate to you in time for Christmas. It would make a great Porsche related gift or stocking stuffer.
One More Way to Win
We have lots more good stuff to give away, (e.g. Flying Lizard team gear, cases of Mobil1 oil, Gift Certificates for Service Work, RC Cars, Die-Cast Models, Books, etc., etc.). What we need are great pictures to use for future contests. If you have a funny or interesting Porsche related picture you think is a good fit for our caption contest send it along to us at captioncontest@flatsixes.com. If we use your photo we'll send you a PorschePurist shirt just to say thanks.
Related Porsche Posts
Free Shipping for PorschePurist Readers from Griot's Garage (use keycode "WPPFS" at checkout)
Porsche Gift Ideas