A little over ten years ago, Marc Basseng took the Carrera GT around the Nurburgring. A man with victories in the 24 Hours of Daytona, Bathurst 12 Hour, and the 24 Hours Nürburgring took Porsche's then-flagship around the 'Ring in 7:28.71, and now a four-door sedan is within spitting distance of that time.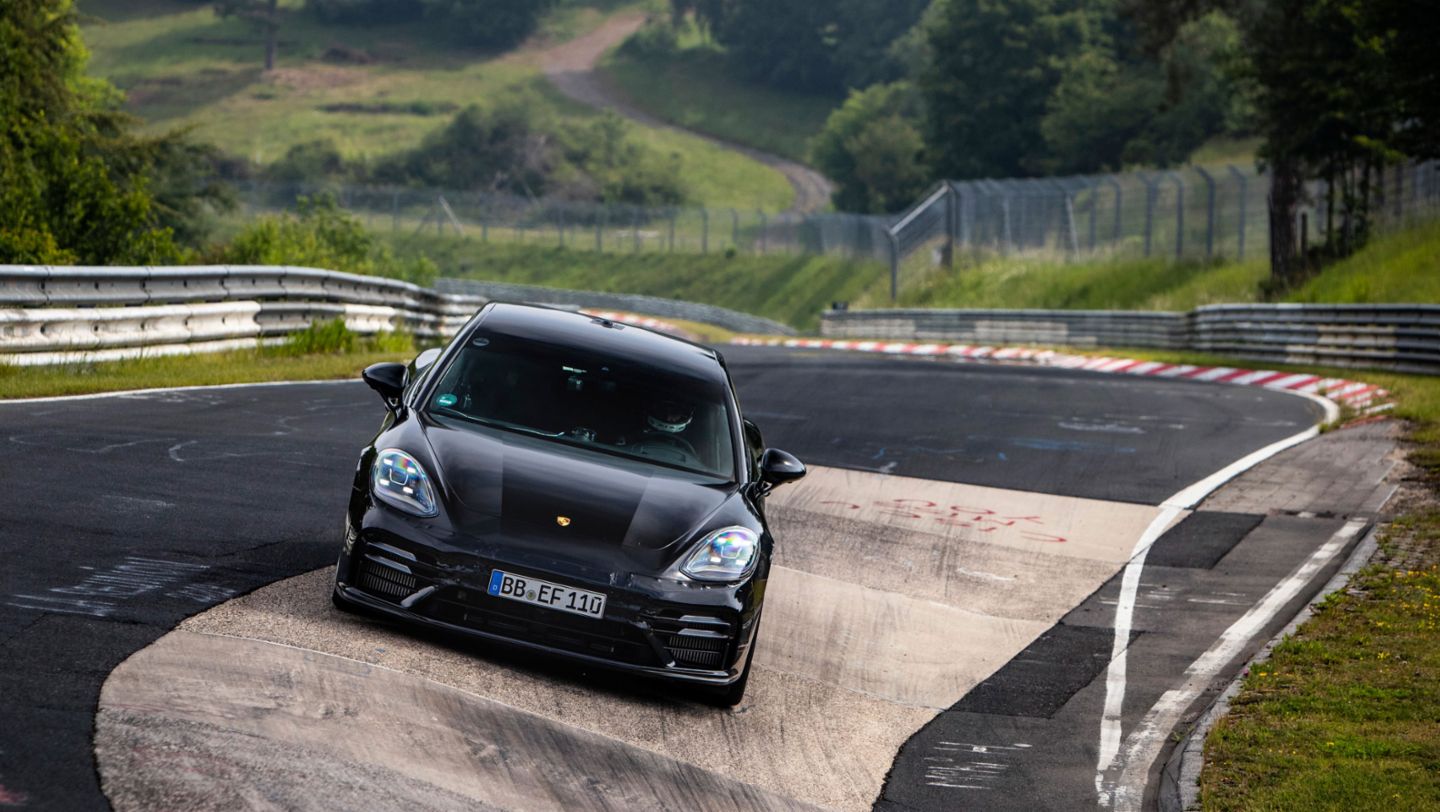 We've been awaiting a truly fast Panamera since rumors of a specialized "Lion" version began circulating in 2019. Last week, Lars Kern strapped in to a partially disguised Panamera and rounded the 'Ring in 7:29.81—a new record in the "executive cars" category. A supple, sophisticated, spacious cruiser just over a second slower than the V10-powered hypercar from fifteen years ago boggles the mind.
Initially, anyways. The drastic improvements in lap times can be attributed to two general areas of development. First: tires were the greatest limiting factor twelve years ago, and this model has had a special set of Michelins made for it. The other: body control has made heavyweights like the Panamera and Cayenne capable of belying their weight in surreal ways.
"The enhancements made to the chassis and the powertrain of the new Panamera were always noticeable during this lap on what is recognized as the most demanding race track in the world," says Kern. "In the Hatzenbach or also Bergwerk and Kesselchen sections in particular, the new setup of the electromechanical roll stabilization system remains consistently effective and provides the Panamera with incredible stability in spite of the bumpy track surface. At the Schwedenkreuz, the car benefited from the improved lateral dynamics and the increased grip of the new Michelin sports tires. I achieved cornering speeds there that I would not have believed possible with the Panamera," he elaborates.
Porsche's been particularly cagey about the specifics of this Panamera, but what is known is that it was fitted with active anti-roll bars, a racing seat, and a rollcage. In addition to the bump in grunt mentioned below (this particular car may have more than 700 horsepower), this record-setting Panamera wore a set of tailor-made set of Michelin Pilot Sport Cup 2 tires which will optionally available after the vehicle's launch.
It may be pushing two tons, but the way Porsche's engineers cleverly mask heft with torque and traction means this kind of performance isn't incomprehensible. The right combination of a predictable sedan and a daring driver (one who's able to make an admiring Chris Harris guffaw like a schoolboy) makes it a little easier to look past the generous proportions of Porsche's greatest-ever 'Ring taxi.